About the State Farm Coding Competition
Who: The contest is open to full-time undergraduate students. What: State Farm Java Coding Competition. When: The online competition begins on October 13, 2018 at 8:00PM CDT and will end on October 13, 2018 at 11:59PM CDT. The finals competition by invitation only will be on November 12, 2018 in Dallas, TX. Where: Online competition - more information will be available on the State Farm Coding Competition home page the night of the competition. Instructions will also be sent via email. Sponsor: State Farm Mutual Automobile Insurance Company; 3 State Farm Plaza, Bloomington, IL 61791. State Farm is in the business of insurance and financial products and services. See official rules for more information.
---
A list of recommended skills and tools are available below to help you prepare.
Skills
Links to suggested learning materials
Tools
The recommended development environment is the latest version of Spring Tool Suite (STS) because it has Maven support built-in. Please install STS on your machines prior to the competition. This will best assure that judges are able to execute the solutions. Alternative IDE, servers, and tools may be used but at the teams risk of not being executable by the judges.
Getting Ready for the Competition
Sample Project Setup
Fork the 2016 setup project found in GitHub - https://github.com/StateFarmInsCodingCompetition/SetupProject2016
Copy the Clone link found in GitHub after you have successfully completed the fork: Example - https://github.com/your_username/SetupProject2016.git
Open Git GUI or Git Bash and create local copy:
Source Location - Clone link provided at GitHub, same that you copied above. Target Directory - Working copy location. Command line - `git clone [url]`
Create local workspace in STS, then import working copy (Import as "Existing Maven projects ")
Run JUnit - The green bar means JDK 8 is set up correctly and your workspace is ready for the competition.
During the competition you would update your branch with appropriate changes by completing the following: Stage changes, Commit, Push.
A Pull Request will be required at the end of the competition.
Previous Competition Problems for Practice
Visit our GitHub profile to try out problems from previous coding competitions.
Helpful Setup Documents
Helpful Hints
Be sure you are connected to the internet prior to importing sample problems into your workspace. The pom.xml file will requires internet access to pull from the maven repo and pass the JUnits successfully.
The path to your working copy should not have any spaces; otherwise, you will get JUnit errors reading the input files or running builds. Correct: C:\Users\Desktop\SF2017\2017StateFarmCodingCompetition Incorrect: C:\Users\Desktop\SF 2017\2017 State Farm Coding Competition
---
State Farm Coding Competition winners and finalists
---
2018 State Farm Coding Competition winners
---
Jeremy Schonfeld, Robert Pooley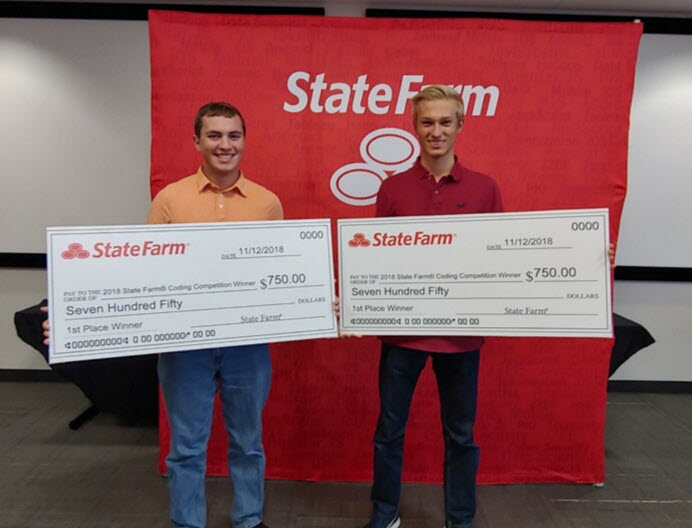 2018 State Farm Coding Competition Finalists
Aashish Welling, Ankur Sundara Abdul Bagasra, Ayush Ranjan Ananth Dandibhotla, Aubhro Sengupta Jeremy Schonfeld, Robert Pooley Matthew Musselman Universities represented - Georgia Institute of Technology, Manchester Community College, Massachusetts Institute of Technology, University of Illinois at Urbana-Champaign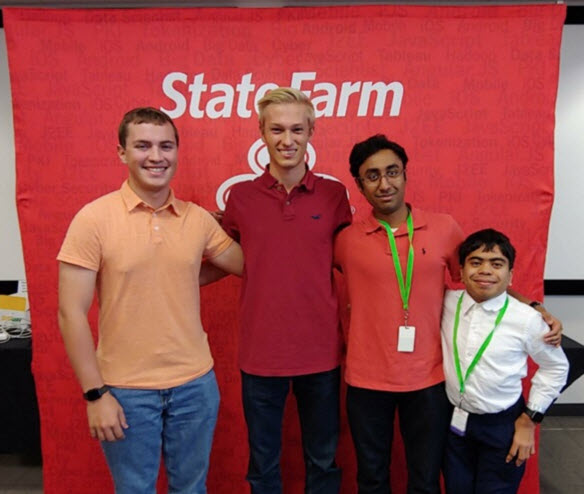 ---
2017 State Farm Coding Competition winners
---
Jeremy Schonfeld, Robert Pooley - Georgia Institute of Technology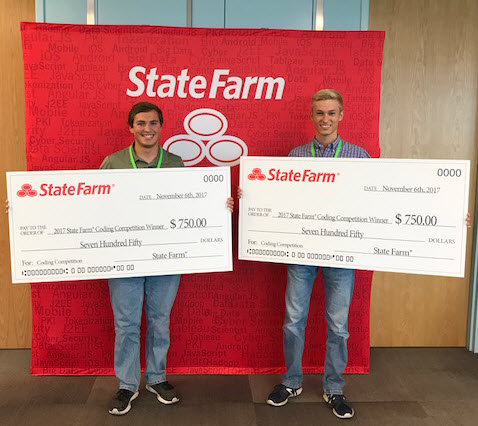 2017 State Farm Coding Competition Finalists
Aashish Welling, Ankur Sundara - Massachusetts Institute of Technology/University of Illinois at Urbana-Champaign Amir Omidi, Ryan Willette - Drexel University/Northwest Vista College Caleb Ji, Sam Heil - Washington University in St. Louis Jeremy Schonfeld, Robert Pooley - Georgia Institute of Technology Joshua Smith - Northwestern University
---
2016 State Farm Coding Competition winners
Aashish Welling, Ankur Sundara - Massachusetts Institute of Technology/University of Illinois at Urbana-Champaign
Runner-Up Final Round
Amir Omidi - Drexel University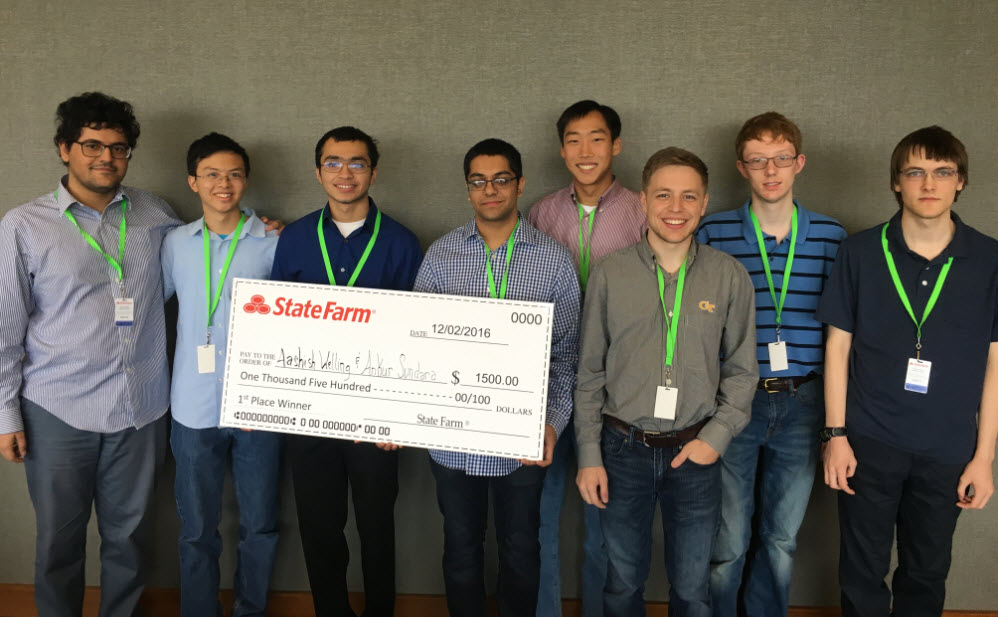 2016 State Farm Coding Competition Finalists
Aashish Welling, Ankur Sundara - Massachusetts Institute of Technology/University of Illinois at Urbana-Champaign Amir Omidi - Drexel University Caleb Ji, Sam Heil - Washington University in St. Louis Joshua Koh, Andrew Oliveira - Georgia Institute of Technology Joshua Smith - Northwestern University
---
2015 State Farm Coding Competition winners
Joshua Koh, Andrew Oliveira - Georgia Institute of Technology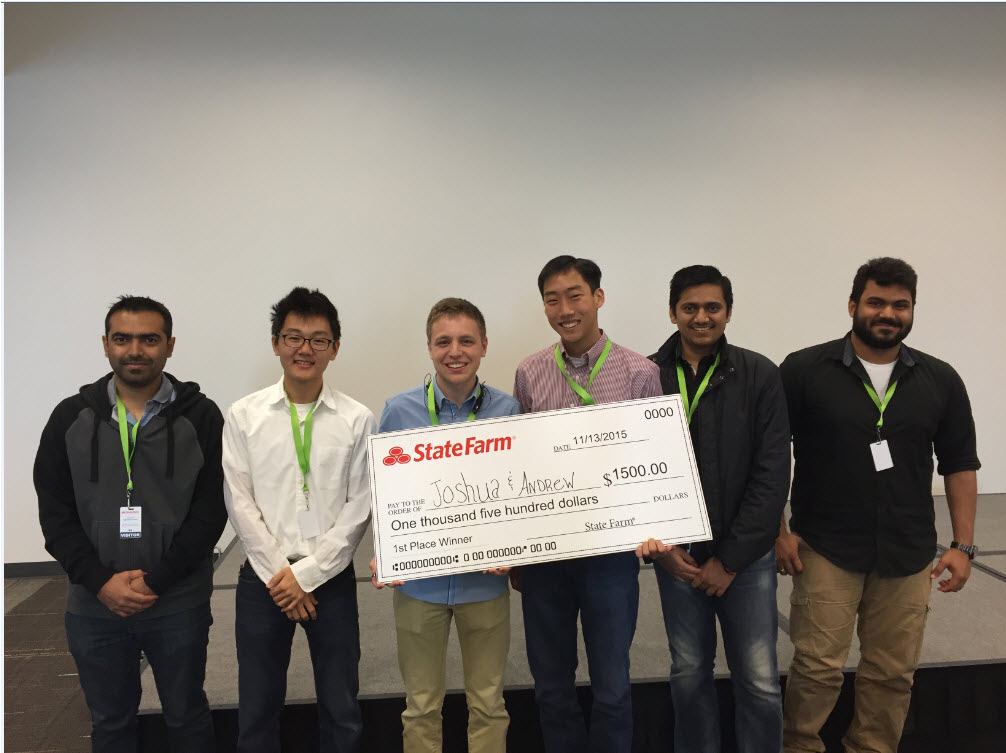 2015 State Farm Coding Competition Finalists
Atman Dhol, Sagar Das - Georgia State University Fahad Shaon - University of Texas--Dallas Joshua Koh, Andrew Oliveira - Georgia Institute of Technology Terrence Park - University of Texas--Dallas